A women's pilgrimage in the mountains of Nepal
With Yogita Bouchard
November 5 - 26, 2018
Join  Yogita  for a  unique women's pilgrimage to the Peekye Peak region of Nepal in November 2018.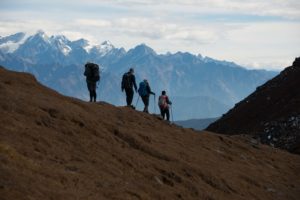 Walking in Nepal brings us along ancients paths, traveled for hundreds of years until today. One step at the time we walk so  that perhaps we can open ourselves to the timeless sense of presence within us. Letting something unfold…..with whatever intention we have in our our hearts and souls.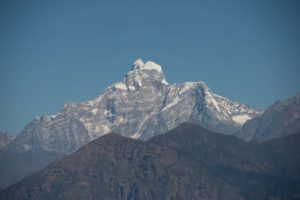 Historically, a pilgrimage was a sacred journey to a particular place – whether a shrine or a mountain- that was seen to hold a special spiritual power. For us today, It is a time to walk with a quiet intention, when we can go into a deeper self-acceptance and peace within ourselves.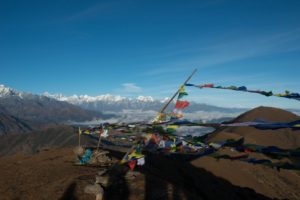 The trek to  the Peekye peak area offers fantastic views of the  Himalaya, ancient monasteries and bustling town markets. This is an area that is still largely off the normal tourist routes.
This will be a small group experience, limited to 10 participants.
Anyone who is in reasonable shape and good health can enjoy this walk. Some days will be longer, and a few harder then others, but none will require more then 6-8 hrs. of walking at your own pace. That includes a leisurely lunch brake each day of 1.5 hours. All you are required to carry each day is a small day pack.
There is NO rush or NEED to keep up, as you are free to walk at your own rhythm.
This will be a mid-elevation walk, with cool nights around 0 C. and warm days where you can hike in shorts and a tee shirt.  Further details  concerning the trek route, elevations and itinerary are available upon request.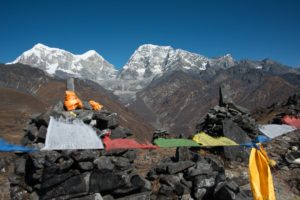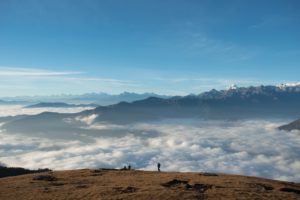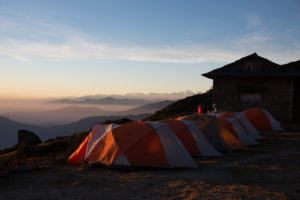 Our Pilgrimage trek will be supported by Happy Feet Expeditions, a Nepalese company based out of Kathmandu that I have worked with a number of times before. There are professional, detail orientated, and bring a big smile to everything they do. Happy Feet will pick you up at the airport, arrange and provide accommodations in Kathmandu, and deal with all of the logistics of our  15 day walk in the Himalayas. Setting up tents, cooking meals and making sure the donkeys carrying your gear arrive safely each day at camp.
As a Canadian who has traveled to Nepal three times before I have been touched by the simplicity and joy of these people and their culture. How much they give  of themselves with  such generosity,  especially given how little they have.  With this in mind our pilgrimage will give those who wish an opportunity to help  with specific projects that are underway in  Nepal and be of service  to those of greater need. This aspect of the trek is optional, and we will be focused upon three projects that are listed below.
Our Nepalese partners require payments for this trek  in US dollars. The total cost of this trip is $2350 US dollars. To hold your reservation and secure a space on this trip a payment of $650 is paid via this website and the remainder of the payment in US dollars will be due July 1st 2018.
Please ask for details for Cancelation Policy as due to various reasons the regular MWRetreat cancelation policy DO NOT APPLY for this retreat.
For further details and questions please contact Yogita
Prices are subject to change and include:
*Airport pick and departure services as per itinerary
*4 nights of hotel accommodation in Kathmandu, includes breakfast.
*Guided sightseeing tour of Kathmandu with transportation.
*Kathmandu/Jiri Transportation (by private Transport)
*Gaurishanker conservation area entry permits and permits fees
*TIMS Trekking permits and permits fees
*Trekking guides, cook, kitchen boys and number of porters/mules needed for circuit.
*Insurance and all expenses of local staff.
*Phaplu to Kathmandu airfare (tax included)
*Entrance fee to the monuments
 NOT included in pricing:
*Travel insurance
*International air tickets
*Nepal visa entry ($25 US)
*Lunch & Dinner's in Kathmandu
*Personal trekking equipment
*Personal expenses
*Tips for Nepali Staff/Porters.
A daily itinerary, equipment list and other important information are available upon request. Please contact Yogita at 250-345-7758 if you have questions and wish to discuss joining her on this incredible adventure.
Here is a brief description of each of the three projects, run by the altitude project ( www.altitudeproject.ca ) that you may wish to support through donation or fundraising: Remember this is optional and up to you.
LuminAid solar lights give people the gift of light. Many homes in the remote  Regions of Nepal do not have any artifical light and rely soley on the light of their fire in the evenings. These relatively inexpensive, robust solar lights provide villagers with a light source for their homes and, because they are portable, allow for them to be used in and around the home. Extremely useful for visits to the toilet at night !
Here are a few pix of those light that were given on our trip to the Upper Dolpo in November 2017.
Nyma's hostel for students from Koma a remote village in the Upper Dolpo Region of Nepal.Nyima was in the first class of graduate from the Saldang School. She wrote: "Saldang School is very, very  important, it opened the light in my life. I am very grateful to the people who supported my studies. The only way I could give back to those supporters was to work as a teacher in Komas, my village in the remote mountains  of the Upper Dolpo, a full day's walk east of Saldang village.The children graduated from her class 6could not afford to continue their education in Kathmandu so her father, a revered lama, with generous help from the donors in Spain, set up a hostel for them Kathmandu. Unfo
tunately, there was not enough money to pay anyone to care for the children so her father asked her to volunteer. She currently cares for 26 students, her first group of students are now in class 10. She still has not been paid. We will fundraise to help create a small salary for her and visit her hostel in Kathmandu.
 Images supplies By David Gluns. Thank-you.
Teacher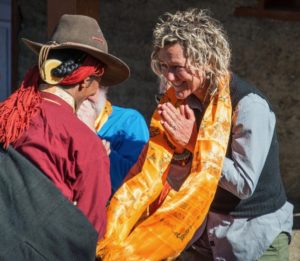 Yogita Bouchard
Yogita brings presence and passion to her work with others. She has a private practice offering counselling, Somatic Relational Therapy and Massage in Nelson BC. She facilitates couples retreats…
Learn more about Yogita Bouchard
There are no upcoming events to display at this time.