Ready, Set, Love: Couples Retreat
With Beth Falch-Nielsen and Richard Klein & Yogita Bouchard
August 25 - 29, 2017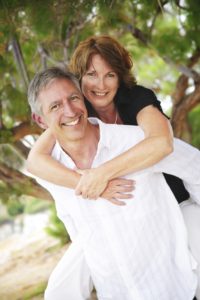 Almost all couples have had the experience of falling in love. Being able to "keep in love", and keeping the relationship alive, takes falling in love to the next level. Using mindfulness and compassion, this workshop will teach skills needed to sustain an energetic, healthy, respectful, and mutually rewarding relationship over time.
Often couples find themselves "stuck" – in relationships that have become too busy, too painful, or just too flat and empty. The usual ways of trying to get out of these stuck places often become loops that keep couples from getting unstuck. Eventually one or both of the partners start to wonder if the relationship is worth saving, too often seeing the other as "the enemy". Usually both just desperately want out of the pain.
Having the right tools and reconnecting to what is really important can change relationships profoundly. Whether you are in crisis, just stuck, wanting to enrich what you already have, or are at the beginning of your relationship and want guidance to "do it right from the beginning", this workshop will give you a practical understanding of relationship dynamics and effective tools to make your relationship the one you want.
This workshop will:
1. Offer experiential exercises that will teach concrete skills to take home. It is an opportunity to stop doing what isn't working, and to start doing something that will work.
2. Provide an opportunity to have a different experience – to re-connect, to shift attitudes, and to learn different models of how to nourish and care for your relationship.
3. Help you, if you are in crisis and trying to make a decision about the life of your relationship, by providing models and tools to help you use a different lens to filter your decision through, and by assisting you to connect to a deeper, wiser, and less reactive part of yourself to make that decision from.
There are no upcoming events to display at this time.