Autumn pilgrimage to Dolpo
With Yogita Bouchard and Richard Klein
October 3 - November 1, 2017
Join Richard and Yogita on a one of a kind spiritual adventure to one of the world's most remote and special places, the ancient Himalayan Kingdom of Dolpo.
Located north of the main Himalayan uplift and Daulagiri, the world's 6th highest peak, Dolpo is part of the Tibetan plateau, a semi-arid pastoral landscape of small farming hamlets, wild mountains and ancient Buddhist and Bon temples.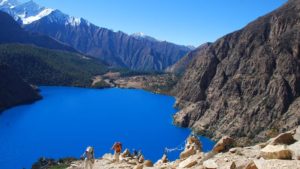 This will be a 28 day high elevation walking pilgrimage through both upper and lower Dolpo. Our Route will take us to Crystal Mountain Dolpo's most sacred peak where we will have an opportunity to complete the Kora route (a ritual circumambulation of the mountain) This retreat adventure will be supported by Happy Feet Expeditions, a trekking company based out of Kathmandu that Yogita has come to know and appreciate from two previous trips to Nepal. You will be hiking with a small day pack while tents and gear are transported by donkeys and porters.
Historically, a pilgrimage was a sacred journey to a particular place- whether a shrine or a mountain- that was seen to hold a special spiritual power
The whole Dolpo region is indeed a special place, and the pilgrimage here is a journey into deeper self-acceptance and peace within yourself.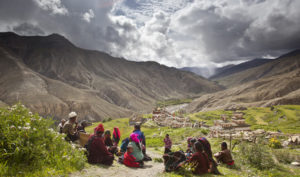 The age-old Buddhist culture of the Tibetan plateau and the beauty of the landscape act as a mirror to shine light upon the beauty and stillness that lies within you, and whatever may, in the moment, stand in the way of this realization. In this kind of journey, all that arises, be that fatigue, discomfort, or the habits of a busy mind, becomes just one more thing to hold and bring kindness to… and as we learn to do so change within ourselves in a powerful alchemy of grace and intention. Be aware that you may not return the same person who set out on this trip.
The combination of inner quiet set within a vast primordial landscape of incredible beauty can produce changes where everything you think you know and understand, the normal reality you have constructed, is altered.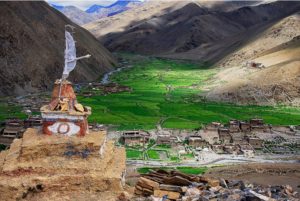 Perhaps you will see in the faces of the Nepalese people, and discover in yourself that joy is not dependent upon material comfort but instead upon a more mysterious connection to self, place and others. You will visit sacred sites such as the Ancient Shey Gompa, and Magnificent Lake Phoksundo, plus visit time worn villages in the Saldang valley and cross high 5,000 meter passes.
There will be opportunities for daily meditation practice and yoga (when we encounter flat terrain in the warm midday sun), as well as a focus on breathing techniques that are designed to clear the mind and calm the central nervous system.
This will be a small group experience, limited to 10 participants. You will need to be in good physical conditioning and there will be adequate time provided to adjust to the elevation that will average 13,000 feet for most of the trek. Please note that for this retreat, prices shown below are in US dollars. This is because as all support services and permit costs in Nepal are priced in US currency.  Prices are subject to change and include: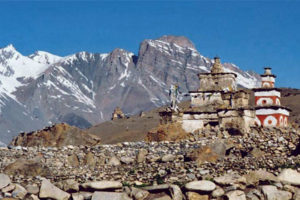 all meals
porter & sherpa services
four nights in a hotel in Kathmandu
airport pickup
All Dolpo Permit fees
local flights from Kathmandu to Juphal, where the Dolpo pilgrimage will begin.
Please contact us for further details.
There are no upcoming events to display at this time.