Aliveness to Meaning: Reconciling Unresolved Emotions and Trauma
With Sharon Stanley
July 20 - 24, 2018
During this four day retreat we will explore the principles gleaned from the emerging research of interpersonal neurobiology and experience creative applications of relational and body-based practices designed to process unresolved stress and emotions. A vast wealth of research data from developmental neuroscience calls us into embodied, empathic and intuitive ways to lift the burdens from the past and move into the future with aliveness, vitality and balance.
This Retreat is for therapists, counsellors, social workers and others who find themselves working in the helping professions and who wish to broaden both skills and capacities in regard to working with trauma from a somatic based perspective.  For those of you maintaining busy practices, this retreat represents an opportunity to combine rich professional learning, with a space for personal renewal and wellness. Mountain Waters offers you a beautiful nature based setting for this course, where you can do morning yoga, walk on forest trails into the West Arm Provincial Park, eat delicious healthy meals, receive a massage, and take care of your wellbeing in a good way.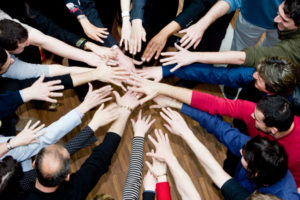 Day One: Coming Alive in Our Bodies and Souls
As we move beyond the limits of cognitive processing and become fully embodied, we are able to form bonds that connect us on a felt sense, opening the helper and the one-being- helped to an attuned and synchronized therapeutic relationship. It is in the safety and context of the intersubjective field that we can engage in bodily-based communication, tuning into our own deeper wisdom and that of the other. The practices of embodiment and somatic awareness allows us to discern dissociated and conflicting emotions and bring them into a shared space for healing.
Day Two: Connecting and Knowing the Inner Realities of Our Lives.
The practices of somatic empathy and somatic inquiry open the portals to our inner truth with understanding, compassion and wisdom and then to develop similar ways of tuning into another and knowing the other in their own terms. As we deepen into the bodily based dynamics of the therapeutic relationship we can explore the knowledge that arises in our connection with another and use these cues to guide us into a shared exploration of unresolved memories and states of trauma.
Day Three: Entering into the Dynamics of Somatic Change
Guided by relational and phenomenological ways of knowing, we will experiment with a wide range of somatic interventions to access and process past unconscious emotions as well as the images and dreams of fragmented states of mind. Somatic interventions that synchronize the chaos of unconscious dynamics will be primarily bodily based while somatic interventions of higher cortical elements can be used to re-organize fragments of sensory based trauma.
Day Four: Reflecting on the Elements of Right Hemispheric Processing
Reflection processes on the right hemisphere of the brain are radically different than those on the left. In the day of somatic reflection, we will integrate and synchronize perceptions, sensations, movement, emotions, insights and wisdom that has emerged into meaningful elements of knowledge.
This retreat course is also available to participants from the Nelson Area who choose to commute to Mountain Waters on a daily basis. "Course only" price is $660 CAD  and includes lunch  on all course days. For  participants who are attending this retreat from the United States we ask that you pay the tuition part of the the retreat cost ($600 ) in the US dollar amount.