African Shamanic Retreat
With Bette Corsan
April 19 - 22, 2019
Bette Corsan is a medicine elder in the indigenous Bwiti tradition of equatorial Africa. She completed her Rites of Passage and Women's Mubundi Initiation in Gabon, Africa and has returned three times over the years to further her training. She has been offering retreats and working with individual clients since 2011 in the Bwiti Art of Knowing. She invites you into the opportunity to know yourself as you were when you were born, a pure soul.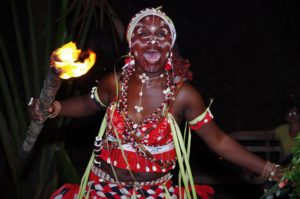 This work can unlock deep knowledge about yourself through complete awareness in the dream state, and this knowing can help you create a better life.
 Join us and a small group of women on April 15-19 for this  shamanic ceremony in a safe, comfortable and inviting space.There is a $850 non-refundable deposit required to secure your place in this retreat.
Leader
Bette Corsan
Bette Corsan is a Medicine Elder in the Bwiti Tradition of Iboga Tabernanthe Medicine. She trained with a 10th generation African Shaman and learned how to safely guide…
Learn more about Bette Corsan