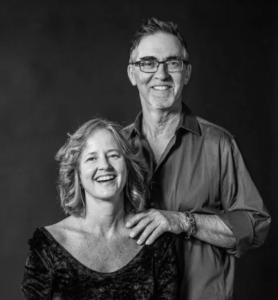 Dharma Teachers Doug Duncan and Catherine Pawasarat teach meditation and act as spiritual mentors to students internationally and at their retreat center in BC, Canada.  Having lived overseas for many years and traveled extensively, Doug and Catherine draw on intercultural and trans-cultural experience to broaden the range and depth of their understandings of liberation that they share with others.
Who the heck are they and why should you trust them?  Read on:
Doug Duncan is a meditation teacher who founded Clear Sky Meditation Centre, BC, Canada. Achariya Doug Duncan received lay ordination from Namgyal Rinpoche in 1978, and is a lineage holder in that teaching. Known for his direct, humorous and compassionate engagement with students, Doug embraces various traditions, contemporary psychology, and science, to mentor all beings to a more awakened state. Catherine Pawasarat has trained daily with Acariya Doug Duncan since 1998 in an intensive spiritual apprenticeship that is rare in the modern West. She received lay ordination from Namgyal Rinpoche in 2003. In addition to Buddhist philosophy and its applications to daily life, Catherine also draws on generative living and the arts. With Doug she is co-founder of Clear Sky Retreat Center in the BC Rockies.